That is spring! Do you want freshness on your plate? This article is made for you. Without further, we deliver ideas to compose your salads combining softness, delicacy and lightness.
Compose your salad
Simple to achieve, the salad is probably the perfect dish in this beginning of spring!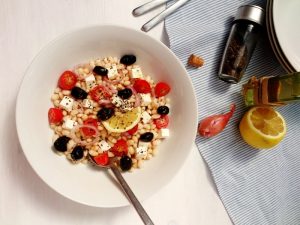 Bye bye the traditional green salad, today you can make your salad by mixing vegetable proteins, vegetables and starches.
To compose your salad, choose a base among the following products: pasta, rice, lentils (green or fair), quinoa, white coco beans, toasted pearl couscous, potatoes, cereal blend, couscous…
Then add cooked vegetables (cauliflower, aubergine, red beetroot, green beans, broccoli, asparagus, peas…) or raw as carrots, tomatoes, peppers, radishes, avocado, onions, green salad, zucchini, sprouts…
Finally, add crunchy using nuts, pickles, or seeds (squash, sunflower, sesame, flax…).
But what would be a salad without sauce?
No more classic vinaigrette sauce ! Some people will choose the simplicity by sprinkling their salad with a simple lemon juice or with a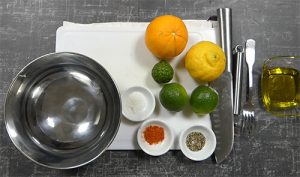 drizzle of olive oil. Others will prefer a sauce made with yogurt and fresh aromatic herbs. You can also opt for sweet recipes sauces with Maple Syrup or soy sauce for an Asian version.
And if you are too attached to the vinaigrette sauce, you can always cook more original variants with sometimes amazing flavors!
The base of a classic vinaigrette is composed of oil, an acidic ingredient (vinegar, lemon juice…) and spices (salt, pepper, spices, aromatic herbs…). But this base can be revisited. Let your creative side enter in action!
Think for example to vary the vinegar using Cider vinegar, balsamic vinegar or honey vinegar. You can also replace the vinegar by citrus making a vinaigrette sauce with lemon juice, orange juice or grapefruit juice.
The choice of oil: here too, feel free to vary. There are many kinds of oil. For a vinaigrette sauce more ordinary, choose rapeseed oil or olive oil. And for a sauce more tasty, choose a walnut or grape seed Oil.
Tips and original ideas: bring a touch of originality to your salads and amaze your guests!
We dare the mix of fruit and vegetables. You can add a sweet touch to yo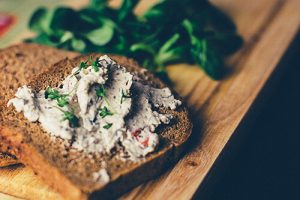 ur salad incorporating fruit in small touches. Mango blends very well with a salad of lentils with a citrus sauce. You can also add pomegranates, citrus or apples to your salads.
Bring a touch of color to your presentation with a few edible flowers (nasturtium, wild pansy…).
Embellish your salads with savory slices of bread. To do so, nothing more simple! Take a slice of bread (traditional bread, rye bread…) Toast it few minutes then garnish with guacamole or a tomato sauce topped with seasonal vegetables.