Ingredients
1 red carrot, 1 yellow carotte and 1 orange carrot
1/2 cauliflower
½ apple
½ eggplant
1 Counsel
4 slices of little quinoa
½ sweet potato
1 bunch of parsley
3 CS of mango vinegar
Salt, pepper, Espelette pepper
½ red onion
White sugar
White vinegar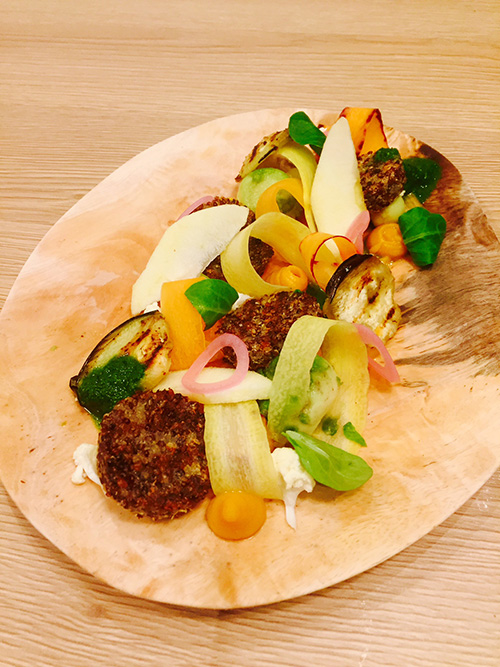 Directions
1. Peel and cut the sweet potato into small cubes. Fry it in a pan with a bit of fat. After staining, add height and simmer over low heat for 20 minutes. Mix by adding a little water and a drizzle of olive oil. Add salt, pepper and Espelette pepper.
2. In a saucepan of water to a boil very salty, blanch a bunch of parsley (just leaves without stems) for 1 min. Cool in ice water. Drain and press quickly by hand to remove excess water. Mix and add ½ of lemon juice and a drizzle of olive oil. Season with salt and pepper.
3. In a bowl, put 1/3 of sugar, 1/3 water and 1/3 white vinegar, add the onions. Marinate for 1 night.
4. In a hot grill pan with a little olive oil, put brown quinoa cakes and eggplant, salt and pepper.
5. Pass the carrots to the mandolin, cut avocado in balls and sliced apples.
6. Draw up alternating each ingredient and each sauce. At the last moment, add a little mango vinegar.
You want to print this recipe? Remember to click on the elements you want to delete on the preview screen, for a made to measure printing!