Ingredients
200 g (7 oz) Mogette of Vendée
1/2 red onion
2 shallots
A new onions
1 yellow lemon juice
1 small clove garlic
1 tablespoon traditional wholegrain mustard
2 tablespoons of olive oil
Salt, pepper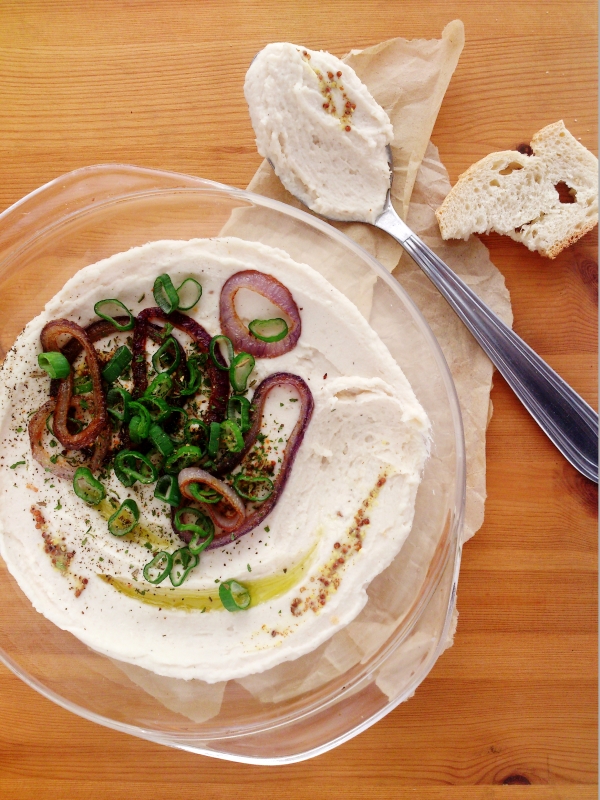 Directions
1. Soak the Mogettes de Vendée overnight, in a large bowl filled with water. Rinse and drain.
2. Cook the Mogettes in 3 times their volume of water (unsalted!) for 1 hour. Add during cooking the shallots. Once cooked, drain the beans and let cool dows.
3. Cut red onion into rings. Put them in a pan with a little olive oil Add a trickle of water once the pan and onions are hot. Once the onions are tender, book them.
3. Place the Mogettes with Shallots in a blender. Add the 2 tablespoons of olive oil, the juice of lemon, crushed garlic clove, salt and pepper. Mix very finely to obtain a smooth mixture such as classic hummus. If the pulp obtained is too thick, add just a little water.
3. Pour your mixture into a dish, place on top the red onion rings, a few new onion slices, the mustard, a bit of olive oil and aromatic herbs of your choice.
When you want to eat the spread, stir and serve with fresh bread.
You want to print this recipe? Remember to click on the elements you want to delete on the preview screen, for a made to measure printing!