Sabarot launches the Lundi veggie blog aimed at convinced vegetarians as well as budding flexitarians, and hope to be joined by other food companies in this community project. For this occasion, Sabarot innovates and offers exclusive new line of 100% Veggie gourmet and tasty blends.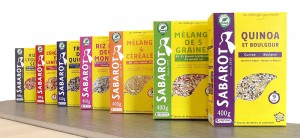 Consumers' ever-growing interest in a healthy, balanced diet inspired the emergence of a strong "veggie" trend. This imply to increase the consumption of plants proteins instead of animal proteins from meat.
Sabarot, pulses and cereals specialist since 1819, has developed a complete range of cereals, pulses and rice blends to meet the expectations ofrice to this demand.
In addition to their many existing references of cereals and pulses, you will now find a range of 7 gourmet blends. Perfectly adapted to the needs of a vegetarian diet, they will let you pleasantly vary your menus, and integrate plant proteins in your plates easly.
This complete range will allow you to change pleasantly from pasta and rice. This is an original way to invite plant proteins to your family plates in a playful way!
Let's discover:
Cooked in 9 to 10 minutes, these gourmet blends promise healthy and original dishes in no time at all!
You can also find Sabarot on
Its online shop
Its shop : 15 rue courrerie, 43000 le Puy-en-Velay, France