Ingrédients
Ingredients for Naan bread:
500g wheat flour
180 ml warm water
125g plain greek yogurt
4 Tbsp sunflower oil
8g yeast
1 Tsp sugar
5 Tsp salt
2 pinches baking powder
Ingredients for the red lentil dhal
250g red lentil
1 onion
1 garlic clove
1 Tsp chopped ginger
3 cardamom pods
2 Tbsp sunflower oil
1 Tsp cumin powder
1 Tsp turmeric powder
1 Tbsp tomato paste
200 ml coconut cream
Salt and pepper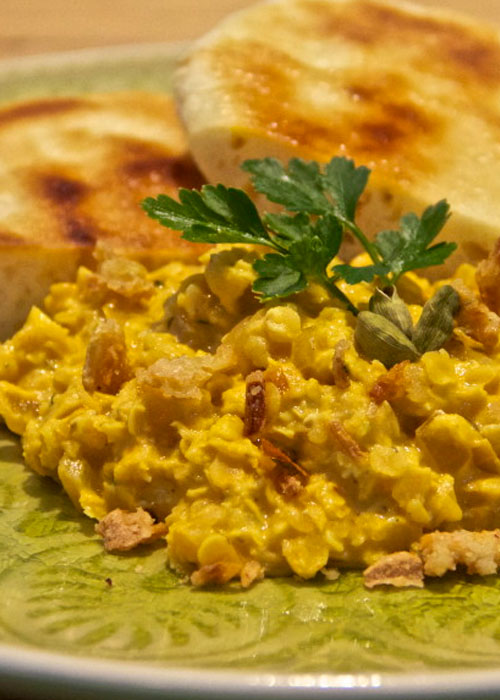 Directions
For naans
1. Preheat the oven to 100°F. In a large bowl or the bolw of a food mixer, mix together the yeast,warm water and sugar. Add flour, baking powder, oil and greek yogurt. Stop the oven. Knead the dough for 10 to 15 minutes.
2. Cover the bowl with a damp towel and let the dough rise in the oven for 2 hours.
3. Shape the dough into small identical balls, and roll them out with a rolling pin.
4. Cook in a non-stick pan or on a grill, 4 minutes on each side. Transfer to a plate and brush lightly with melted butter.

For the dhal
1. Rince the red lentils and add them to a pot of cold water. Bring to a boil and cook according to the packaging instructions. Drain well. In a pot, cook the thinly chopped onion in oil. Add cumin, garlic and ginger.
2. Add the tomato paste and 50 ml water. Cook for 10 minutes over low heat. Add coconut cream and salt. Simmer for 5 minutes. Mix together the preparation and the cooked lentils.
3. Cook for a few additional minutes over low heat. Serve with naans on the side.
You want to print this recipe? Remember to click on the elements you want to delete on the preview screen, for a made to measure printing!