Ingredients
2 carrots
1 zucchini
½ red onion
1 Combava (citrus fruit)
1 bunch of fresh parsley
Flour
Salt
Black pepper
Mesclun (mixed salad)
Chestnuts
Olive oil
Lemon juice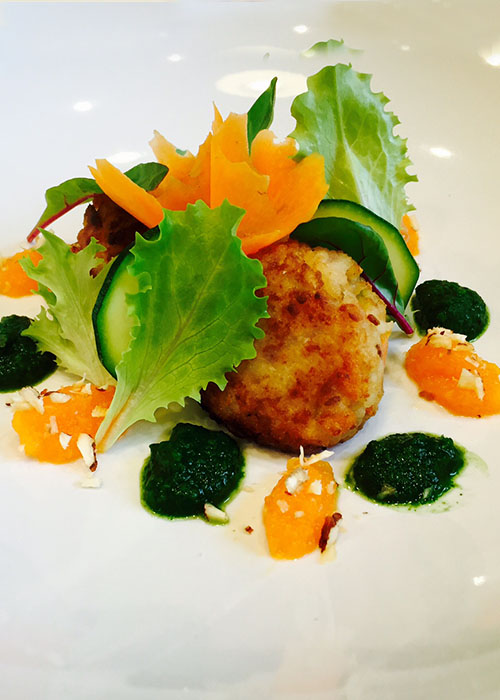 Directions
1. Veggie balls
Finely dice half a zucchini, one carrot and the half onion into a brunoise.  Cook your vegetables in a saucepan with olive oil, cover with water and cook over low heat for about 15 minutes.
Cook the cereals blend for 9 minutes in salted water. Transfer to a large bowl. Mix in the vegetable brunoise and add about 4 teaspoons of potato starch to make the preparation little denser.
Shape the veggie balls and roll them into flour. Fry them in olive oil and set aside.
2. Marinated zucchinis
Slice 8 thin zucchini slices. In a bowl, add 3 tablespoons of olive oil, salt, pepper and lemon juice to the slices and let them marinate for 15 minutes
3. Parsley puree
Boil the parsley bunch in salted water. Transfer to a bowl of iced water to preserve its colour. Add salt, pepper and combava zests.
4. Carrot puree
Steam the carrots for 15 minutes and blend them in a food processor. You can add vegetable stock to loosen the puree. Add salt and pepper.
5. Place 3 veggie balls at the centre of the plate, separated by a slice of marinated zucchini, and the parsley and carrot purees around them. Sprinkle some chopped chestnuts on top and serve with mesclun on the side.
You want to print this recipe? Remember to click on the elements you want to delete on the preview screen, for a made to measure printing!