Ingredients
1 Zucchini
1 lemon
1 shallot
1 pear
Fresh mint leaves
1 tsp of Espelette pepper
1 tsp of potato starch
Lemon green tea
Olive oil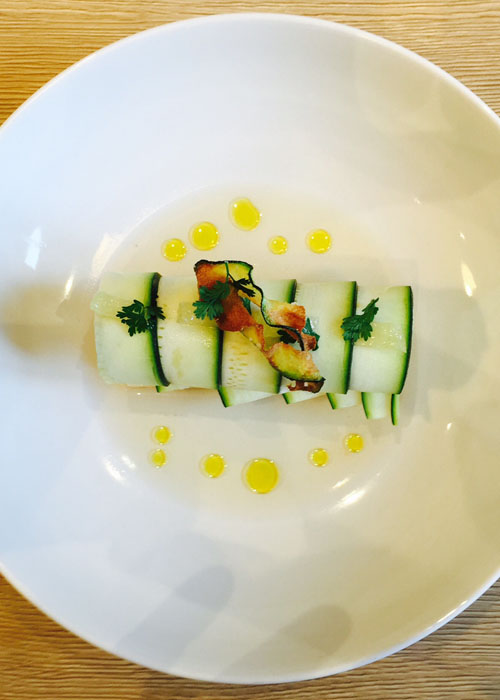 Directions
1. Infusion
In a boiling water saucepan, put the tea bag and mint leaves. Turn off heat, cover with wrap paper and keep for later.
2. Cereals & lentils blend
Collect the lemon Supreme. Keep the juice from the rest.
Cook the cereal & lentils blend for 10 min, drain. Let cool down.
In a bowl, combine the finely-chopped shallot, chopped mint and lemon juice. Add salt and pepper.
Add a teaspoon of Espelette pepper and the potato starch.
3. Zucchini Maki
Cut slices of Zucchini (about 2 mm) using a mandolin, put them on a plastic film, add salt and pepper. Put the cereals and lentils blend on it. Roll like a maki. Tighten well and place in the refrigerator.
Peel pears and cut into slices.
4. Zucchini Chips
Cut thin slices of Zucchini on the mandolin, put them in oil in a pan. Remove when colouring. Add salt, pepper.
5. Presentation
In the bottom of the plate, place the pear slices. Put the maki on the top. On the maki, drop a few supremes lemon as well as the zucchini chips.
Remove the tea bag and the broth mint leaves of the bouillon and reduce to have a juice with taste. Put 5 tsp of bouillon around the maki.
You want to print this recipe? Remember to click on the elements you want to delete on the preview screen, for a made to measure printing!