Ingredients
For the risotto:
100 g (3.5 oz) of Trio of quinoa
1 jar of mushroom mix
1 clove of garlic
1 shallot
10 cl white wine
1 vegetable stock cube
1 Tbsp cream
20 g (0.7 oz) of Parmesan cheese
Salt
Pepper
For the zucchini marinated:
1/2 zucchini
1/2 lemon
2 Tablespoons of olive oil
1 tsp of Espelette pepper
For the curry shiitake tempura:
1 egg yolk
100 g (3.5 oz) of flour
50 g (1.8 oz) potato starch
1/2 sachet of yeast
15 cl of ice water
Frying oil
2 Tablespoons of curry
15 g of shiitake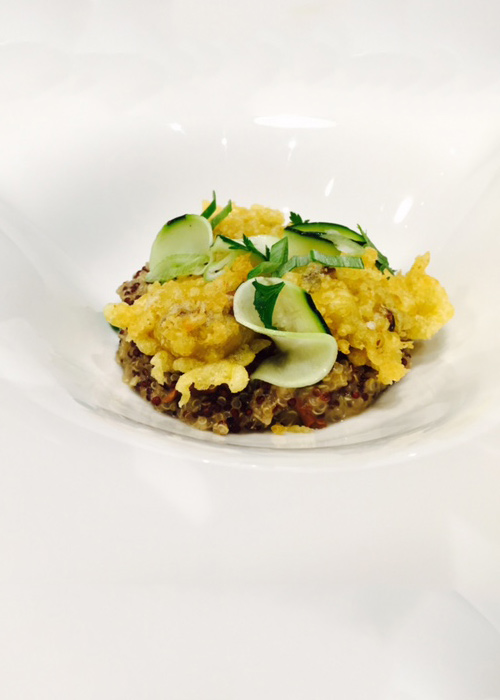 Preparation
1. Boil a pot of water with 1 vegetable stock cube. Pan-fry the mushroom mix in a hot pan, salt and pepper. Book.
2. In another pan, saute the minced garlic clove and chiseled shallot. Add the Trio of quinoa, cook 4 minutes. Deglaze with white wine. After evaporation, add your stock to height, then cook until evaporated. Repeat until your quinoa is cooked. Add mushroom mix. At the last moment, add the parmesan and cream. Season with salt and pepper. If your risotto is too compact, add a little broth to a good smooth rendering.
3. Using a mandoline, make thin slices of zucchini. Put them in a bowl with lemon, olive oil, salt, pepper and Espelette pepper.
4. Do rehydrate shiitake for 25 minutes in simmering water. Cut off the tail of the mushrooms. Mix all ingredients for the tempura and set aside 30 minutes in the refrigerator. Do heat oil in a pan, dip the shiitake in tempura and in oil. Let brown. Book.
5. In a deep dish, place your risotto, top, your tempura, then sprinkle with pickled zucchini.
You want to print this recipe? Remember to click on the elements you want to delete on the preview screen, for a made to measure printing!