Ingredients
1 jar pepper drops
250 g (9 oz) vegan mozzarella
1 bunch of Basil
2 cloves of garlic
5 cl of olive oil
You can add 4 slices of vegan ham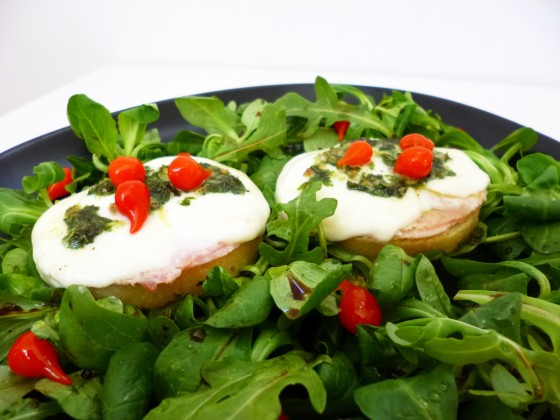 Directions
1. Clean, drain, and pluck the basil leaves off the bunch. Remove the germs from the garlic cloves and mince them thinly using a blender. Add in the olive oil, salt, pepper and stir well.
2. Cut the polenta roll into 8 thick slices (about half an inch thick). Cut the mozzarella into 8 slices.
3. Preheat the oven to 460°F, grill function. In a hot pan, cook the polenta slices, 4 minutes, then flip them and cook for an additional 2 minutes.
4. Transfer the polenta slices to an oven rack and cover each slice with vegan ham cutted as circles the size of the polenta, mozzarella and fresh basil. Grill in the oven for 3 to 4 minutes. Transfer the crostinis to a plate with salad. Top with pepper drops before serving.
You want to print this recipe? Remember to click on the elements you want to delete on the preview screen, for a made to measure printing!