Ingredients
For 6 buns:
30cl (10.1 oz) of almond milk
6cl (2 oz) of grapes seeds oil
5cl (1.7) of agave syrup
6g (0.2 oz) of salt
380g (13.4 oz) of flour
120g (4.2 oz) of barley flour
Sesame seeds
1 packet of 5g (0.2 oz) of baking yeast
For 8 vegetal steaks:
460g (16.2 oz) of chickpeas in box Sabarot
2 shallots
5 wasa fibre
Paprika powder
1 teaspoon chopped fresh ginger
40g (1.4 oz) of squash seeds
2 teaspoon powder of citrus
2 eggs
4 tbsp of olive oil
Chickpeas flour
1 tbsp of dry peppers flakes
For the vegetables garnish :
3 multicolored peppers
5 small Zucchini
4 sweet potatoes
500g (17.6 oz) tomatoes grappes
500g (17.6 oz) of butternut
6 cloves of garlic
3 red onions
Sage, thyme, bay leaf
Salt, pepper
For the sauce:
1 brick of soy cream
1 teaspoon of mustard
1 teaspoon lemon juice
2 tbspof tahini
1 tbsp of ketchup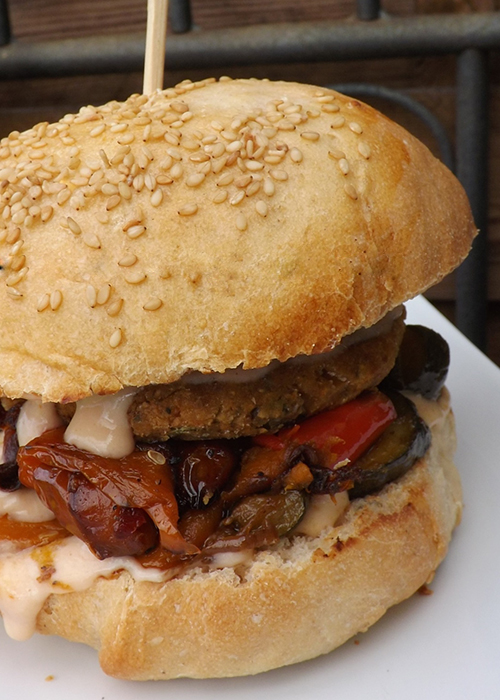 Preparation
Buns:
1. Put all the ingredients except the sesame seeds into the tank of the bread machine.
2. On the rise dough programme, it lasts about 1 hour 20 minutes. Then let rise until the window when the program is finished.
3. Take the dough, put it on a floured work surface and form 6 equal balls and dropped them off on the baking paper.
4. Let the buns hot 40 minutes (you can use the oven your oven at 40 °).
5. Brush the buns with vegetable milk and sprinkle with sesame.
6. Bake in a preheated oven at 180 ° for 17 to 20 minutes.
Vegetal steaks:
7. Put all ingredients, except half of the squash seeds, in the bowl of a blender
8. Mix  to have a smooth mix, then add the rest of the seeds (if the mix is too runny, add a teaspoon of chick peas flour)
9. Form 8 balls, then give them the form of steaks.
10. As you taste them, put them in a pan with 2 Tbsp of olive oil, Cook about 5 minutes on each side.
For the garnish of vegetables of burgers:
11. Wash vegetables
12. Peel the butternut, cut it in quarters not too thin or too thick!
13. Cut the zucchini and sweet potatoes into slices, peppers seeded into strips.
14. Put all the ingredients in a dish.
15. Season with salt and pepper.
16. Put in the oven an hour at 190 °.
For the sauce:
17. Mix all the ingredients.
Assembly:
18. Cut bread in half and toast them.
19. Put sauce into the bread, place vegetables, vegetal steak on the bottom, then put the hat… and enjoy with a good crunchy salad.
You want to print this recipe? Remember to click on the elements you want to delete on the preview screen, for a made to measure printing!