Ingredients
2 flaky pastry
2 fresh leeks (= 300g (10 oz) frozen leeks)
1 shallot or onion
100g (3.5 oz) fresh cheese like St Môret
Spices you want: salt, pepper, curry, cumin…
Optional: a little white wine for cooking (~ 8 cL)
Optional: 1 egg yolk
Optional: grater gruyere (2 handleful)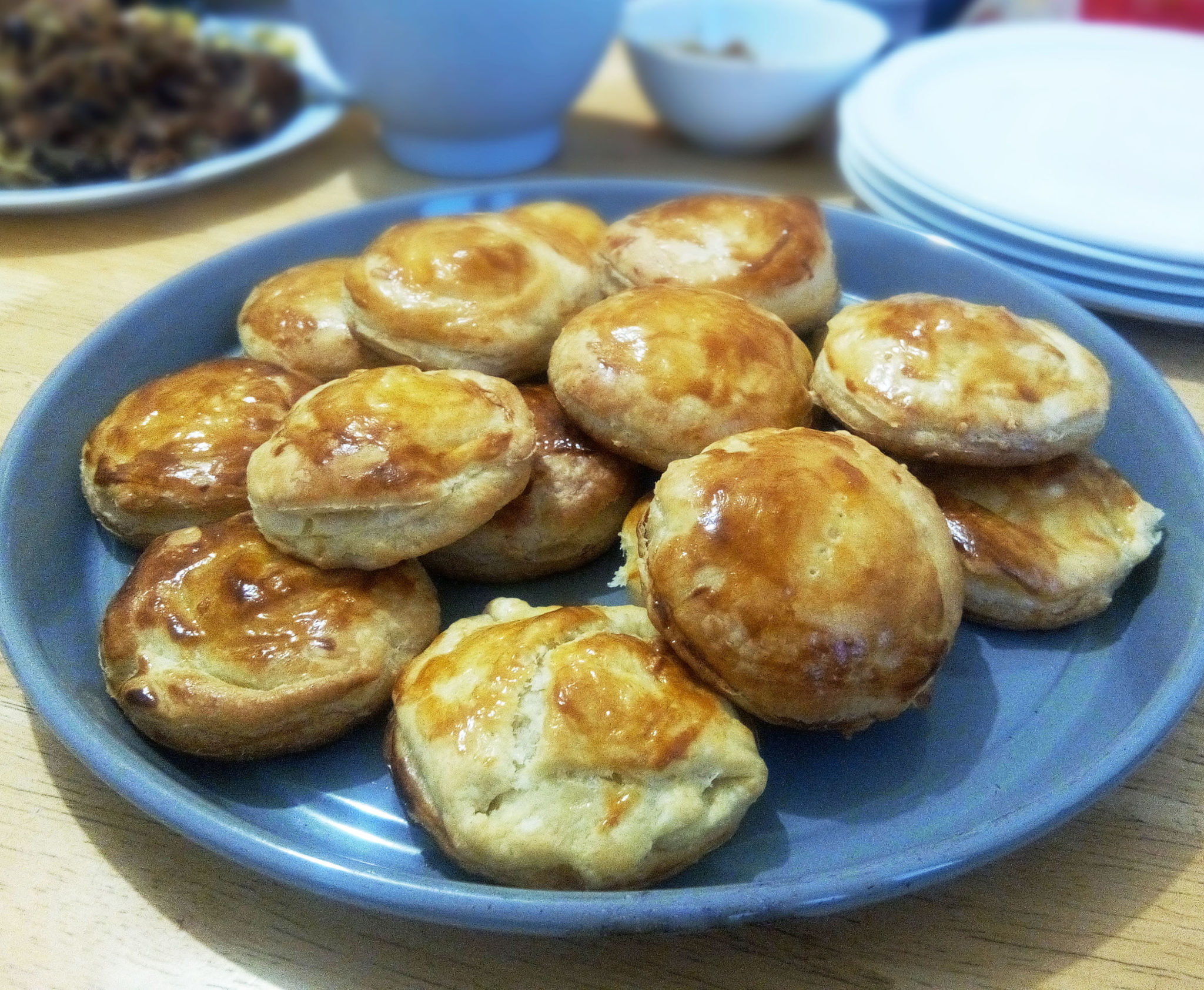 Directions

1. Cook your sliced shallots in a wok or a pan with olive oil.
2. When it starts to melt, add your washed and sliced leeks. Heat stirring until leeks are cooked, and add the white wine during at half cooking.
3. Pour your leeks in a large bowl, add the creamy cheese. If it's to dry, you can ass a but of cream.
Spice to taste.
4. Unroll the first pastry. Use a big glass upside down or a snap to cut circles about 8 cm (8 inch) diameter. Cut them as close to each other as possible to avoid waste, then remix the offcut and cut the last circles (1 pastry = ~ 17 circles). Put the pastry circles on a baking sheet covered with parchment paper.
5. Using 2 tablespoons or your fingers, put a bit leeks mixture in the middle of the circles. Leave 1 cm (0.5 inch) margin on the sides so you can weld the pastriy pieces. (The gourmet ones can add a little Gruyere cheese grated on top, it will melt).
6. Preheat your oven to 180 ° C.

Unroll your second pastry, cut circles in it as the first time. Wet the edge of one of your pastry circles covered with leeks with a little water or egg yolk applied with the tip of a finger, or with a fine brush. Gently stretch a circle cut in the second pastry by hand to make it a little bigger to cover the leeks. Drop it above the first and weld the edges. Repeat this step for each niddle.
7. If you have used an egg yolk, brush the top of each niddle with remaining egg yolk with a cooking brush or your fingers so that they are more golden.
Stitch the top of each pastry with a fork. Bake 20 minutes.
You want to print this recipe? Remember to click on the elements you want to delete on the preview screen, for a made to measure printing!