Ingredients
200 g (7 oz) of Sabarot organic chickpeas
1 package of Sabarot organic couscous
1 branch celery, rinsed and cut into pieces
1 red onion, trimmed and finely minced
3 cloves of garlic, trimmed and plate
200 g (7 oz)  mini carrot
1/2 butternut squash cut into cubes
3 turnips, trimmed and cut into cubes
2 potatoes washed, peeled and cut into cubes
100 g (3.5 oz) of fresh or frozen peas
100 g (3.5 oz) of fresh or frozen green beans
3 tomatoes diced
1 teaspoon of tomato concentrate
1 piece of sugar
1 teaspoon of cumin powder
1 teaspoon of raz el hanout
1 teaspoon of Paprika
1 teaspoon of cinnamon powder
1  teaspoon of ginger powder
2 tbsp of olive oil
Salt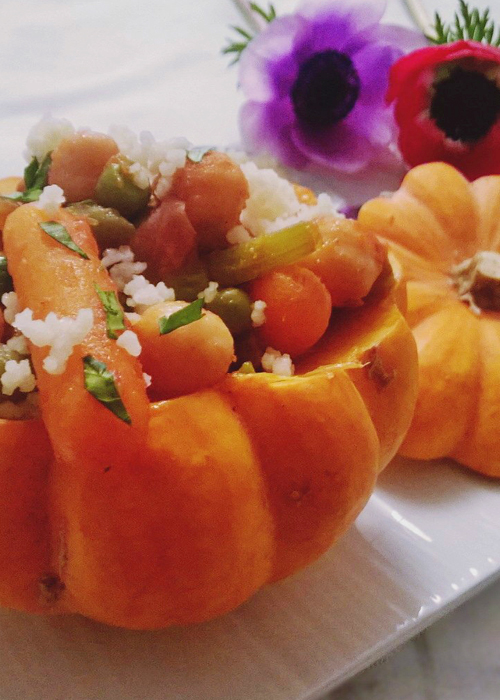 Preparation
1. In a saucepan, make heat olive oil and sauté the onion and garlic.
2. Add all the vegetables and the tomato concentrate.
3. Add the sugar, spices, salt and 1/2 litre of water.
4. Cook on low heat for 30 minutes.
5. Adjust the seasoning and set aside.
6. Cook the couscous according to the indications on the package.
7. Add the vegetables to the couscous and serve hot.
You want to print this recipe? Remember to click on the elements you want to delete on the preview screen, for a made to measure printing!