Ingredients
180g (6.3 oz) of red beans
60 g (2 oz) of Le Puy green lentils
1 green pepper
2 onions
1 tsp of garlic powder
400 g (14 oz) tomatoes
70 g (2.4 oz) of tomato passata
1 small box of corn
1 case of paprika
1 tsp of cumin
1 tsp of coriander
1 case of mixture of spices to Chile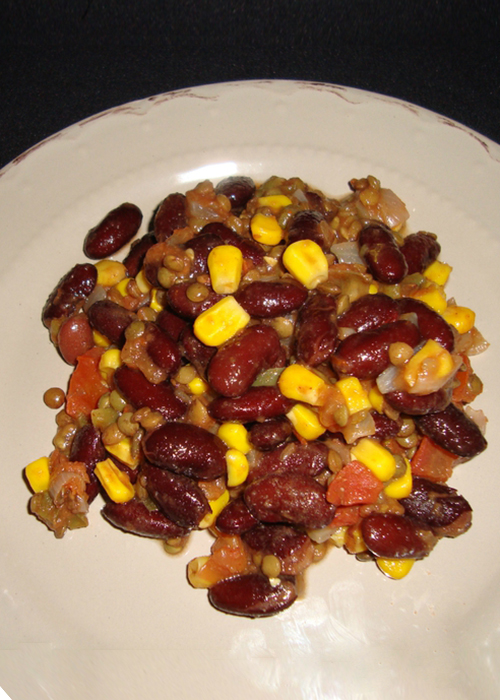 Directions
1. The night before, soak beans in a large volume of cold water and the day of the preparation, drain and Cook, in boiling water for 90 minutes (or 40 minutes in pressure cooker). Drain them. Book.
2. The onions finely. Cut the pepper into dice. In a saucepan, brown the onions, garlic and pepper in a bit of olive oil for 10 minutes.
3. Add the lentils and cover with water. Cook until they are tender (approximately 15 minutes).
4. Add tomatoes (cut into cubes), as well as spices. Cook for 10 to 15 minutes stirring from time to time.
5. Finish by adding the red beans, rinsed and drained corn and tomato passata. Heat a few minutes time as all thickens. Serve immediately.
You want to print this recipe? Remember to click on the elements you want to delete on the preview screen, for a made to measure printing!