Ingredients
3 large oranges or 4 small (you can also use 4 mandarins)
80 g (2.8 oz) cane sugar
120 g (4.2 oz) flour and 60g (2 oz) cornflour (or 180g (6.2 oz) flour)
1 sachet of baking powder
20 ml of vegetable milk (rice, coconut, soya)
1 glass of water
cinnamon
Orange Blossom
2 tablespoons icing sugar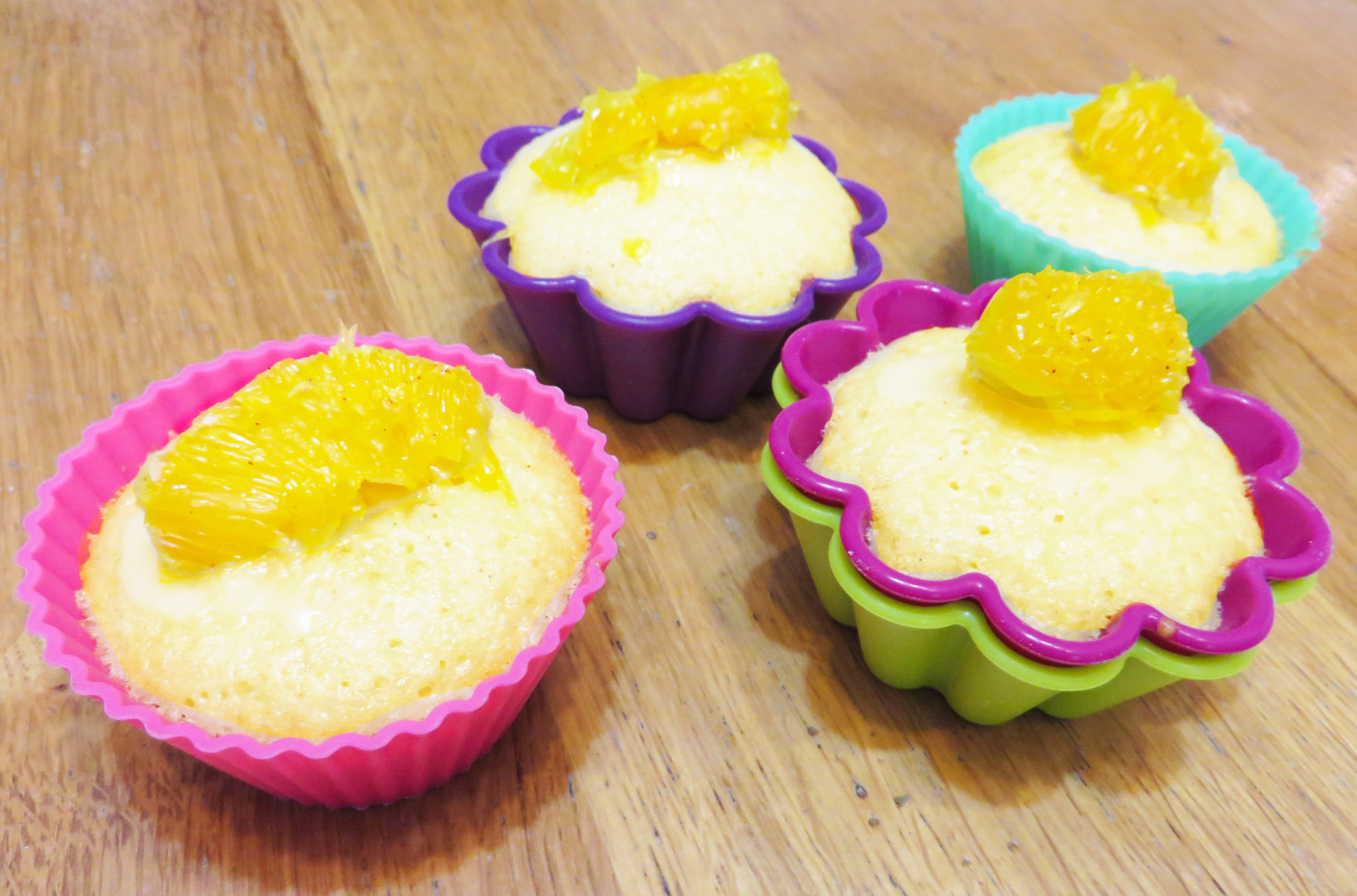 Preparation
1. Prepare an orange (or mandarin) syrup.
Take the supremes of 2 oranges and put them in a saucepan with a small glass of water, 3 tablespoons cane sugar and cinnamon. Press the remaining oranges and add the juice to the saucepan. Heat about 10 minutes.
2. Preheat the oven to 180 ° C.
In a bowl, put the sugar, then add the orange syrup and mix.
Add flour and baking powder and stir with a whisk.
3.  Optionally, add plant milk, depending on the texture of your mix (which will depend on the amount of juice obtained). The preparation should not be very liquid, it must be a little thick but not too much (= stay fluid if one takes a spoon).
Add a little cinnamon and a little bit of orange blossom.
4. Fill your muffins tins and bake for 15 minutes.
5. Prepare if you want a icing: in a small bowl, put 2 tablespoons of icing sugar, carefully add a tiny bit of water and mix. When the muffins have cooled down, put a bit of icing on each (and you can use the supremes of orange to decorate).
It's a recipe without butter or cream and with a very few sugar, to please yourself without regret!
You want to print this recipe? Remember to click on the elements you want to delete on the preview screen, for a made to measure printing!