Ingredients
200 g (7 oz) of Sabarot rice and pulses
1/2 potimarron or 1 whole if it is of small size, peeled and cut in cubes
1 onion finely minced and ready
2 cloves of garlic, trimmed, degermed and plate
10 nature cashew nuts
1 teaspoon of cumin powder
1 teaspoon of ground cinnamon
1 teaspoon of turmeric
1/2 bunch of fresh coriander chiseled
2 tablespoons of olive oil
1 vegetable stock cube
1 tablespoon of lemon juice
70cl water
Salt, pepper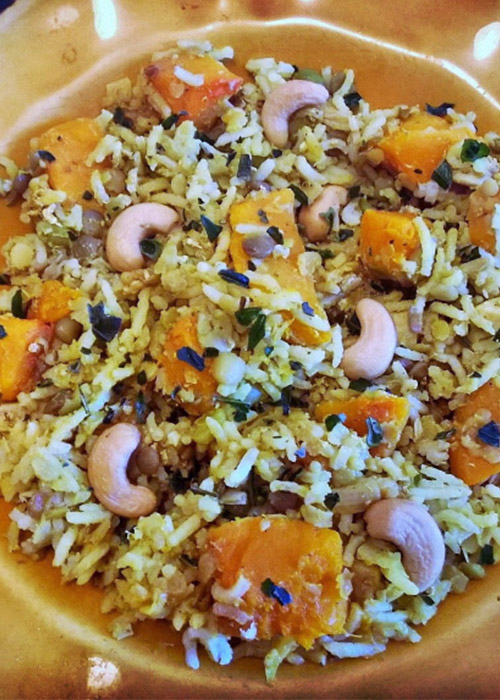 Preparation
1. In a saucepan, boil the water with the stock cube.
2. Pour oil into a wok.
3. Stir in onions, pumpkin, cashews, spices, and garlic.
4. Cook over medium heat during 6 minutes while stirring.
5. Then add the Sabarot rice and pulses and mix.
6. Deglaze with lemon juice.
7. Stir then 2 ladles of broth and stir regularly: the mixture should still be soaked.
8. Add broth if necessary.
9. The cooking time is generally 10 minutes minimum.
10. Season with salt and pepper.
11. Incorporate the fresh coriander and serve hot.
You want to print this recipe? Remember to click on the elements you want to delete on the preview screen, for a made to measure printing!