Ingredients
1 green Kale
60 g (2 oz) of pine nuts
12 petals of tomatoes dried in oil, cut in from
30 g of dried black trumpets
100 g (3.5 oz) of fresh mushrooms sliced
2 cloves of garlic, trimmed and plate
1 white onion, trimmed and finely minced
One-half bunch chopped flat parsley
4 large tomatoes pruned and mixed with 1 teaspoon of powdered sugar or 1 box of 500 g of quality tomato pulp
2 whole eggs
60 g (2 oz) Ricotta
1 slice of white bread without the crust, cut into small pieces
3 tablespoons bread crumbs or grated for gourmands Emmental
Salt, pepper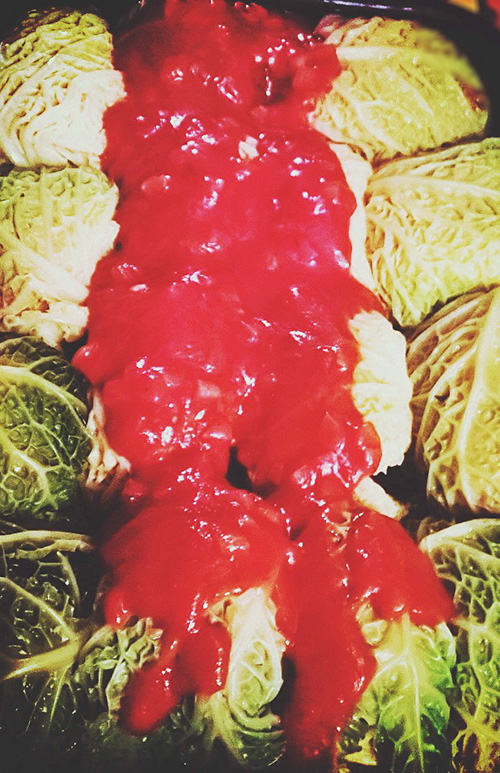 Directions
1. In a bowl of simmering water, soak the black trumpets so that they to rehydrate.
2. Throw the first green leaves of cabbage. Then, separate by cutting at the base, each kale leaf. Blanch them in a pot filled with salt water. Go up to a boil and cook for 15 minutes. Gently pass the leaves in a colander, and let cool.
3. Meanwhile, mix the Ricotta with the eggs in a bowl. Stir in the bread, the pine nuts, tomatoes, garlic, onion, parsley, drained trumpets of death and the mushrooms. Mix well. Season with salt and pepper. Book
4. Preheat the oven to 180 degrees. Take a green leaf and a yellow leaf of the cabbage. Cross them, in overlapping, and put a nice tablespoon of the stuffing in the middle. Fold the leaves to form a package. Place in the bottom of a dish baking. Continue to do so now. Drizzle of tomato pulp and sprinkle with bread crumbs or shredded cheese.
5. Bake in a hot oven, for 30 minutes. Serve with wild rice.
You want to print this recipe? Remember to click on the elements you want to delete on the preview screen, for a made to measure printing!