Ingredients
300 g (10.6 oz) basmati rice
360 g (12.7 oz) of organic Sabarot chickpeas, drained in a colander and rinsed thoroughly
10 petals of dried oil tomatoes cut into cubes
2 red peppers, cut into cubes
3 cloves of garlic pounded
1 white onion, trimmed and finely minced
1 bunch of coriander chiseled
3 tablespoons of olive oil
5 cc of vegetable broth
1/2 teaspoon chili powder
1 teaspoon of ginger powder
1 teaspoon of Paprika
1 teaspoon of cinnamon powder
Salt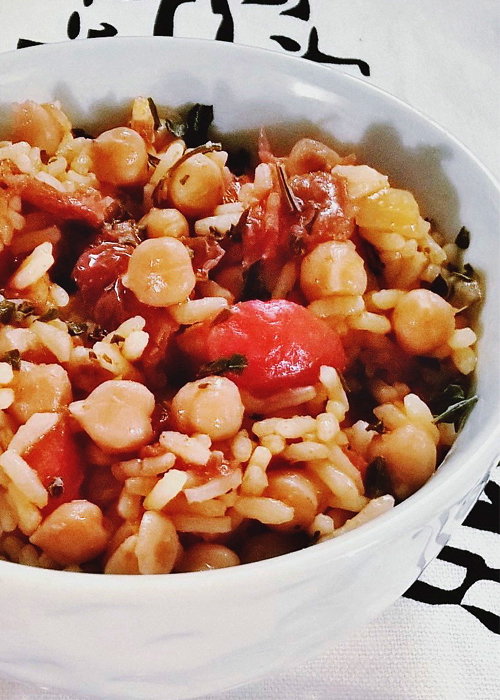 Preparation
1. In a wok, pour the oil and spices.
2. Do heat, then add the tomatoes, garlic and onion over medium heat.
3. Cook 5 minutes, stirring regularly.
4. Then add rice, chickpeas and peppers.
5. Pour vegetable broth and season with salt.
6. Simmer over low heat for 30 minutes, stirring regularly.
7. Sprinkle with cilantro and serve hot.
You want to print this recipe? Remember to click on the elements you want to delete on the preview screen, for a made to measure printing!