Ingredients
200 g (7 oz) of quinoa and bulgur blend
50 g (1,8 oz) of couscous semolina
3 small tomatoes
8 pink radish
15 g (0,5 oz) of Goji berries
4 cl lemon juice
10 cl of olive oil
1 tsp of Basil
1 tsp of mint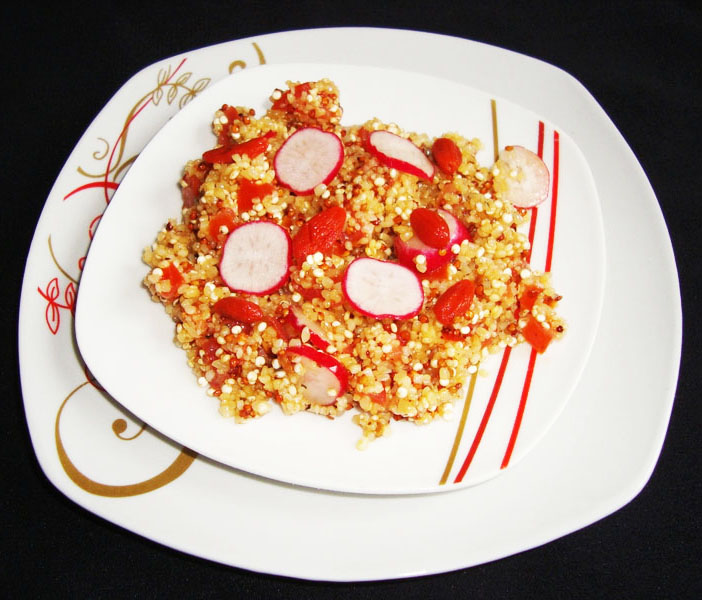 Directions
1. Rinse the quinoa and bulgur blend to remove the starch, then drain and place in a bowl.
Add olive oil and lemon juice (at this point, one has the impression that there is too much olive oil but bulgur grains will swell).
Season with basil, mint, salt and pepper. Stir to mix well.
2. Cut the radishes into thin slices and tomatoes into small cubes, add them in the bowl, stirring well all.
Also add the semolina and Goji berries. All marinate overnight in the refrigerator (grain will be able to swell).
I let them marinate overnight and a daylong stirring from time to time.
3. Before serving, mix well to separate the grains of bulgur, taste your tabouli then add the olive oil and the juice of lemon if necessary.
The quinoa and bulgur mixture combines wisely the crunchiness of the quinoa and the tender of bulgur for a greedy and original result!
You want to print this recipe? Remember to click on the elements you want to delete on the preview screen, for a made to measure printing!